One Day Workshop on "Strategies for Transforming Libraries: Growing Trends & Technologies'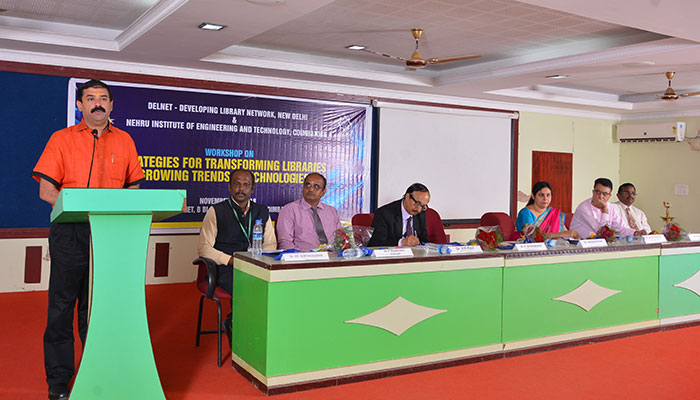 Description
Nehru Institute of Engineering and Technology, Coimbatore, in collaboration with DELNET New Delhi jointly organized a One Day Workshop on "Strategies for Transforming Libraries: Growing Trends & Technologies' on Tuesday, Nov 20 from 10 am to 5 pm.
More than 80 Library professionals, Library and Information Science students, and Research Scholars from various institutions, in and around Tamilnadu & Karnataka, registered and took active part in the Workshop.
The workshop was inaugurated by Dr P. Krishnakumar, CEO and Secretary of the Nehru Group of Institutions, Coimbatore
The other dignitaries present on the dais were, Dr H K Kaul, director -DELNET, New Delhi, Dr Sangeetha Kaul, Network Manager, DELNET, Dr P. Maniiarasan, Principal, Dr. N.K. Sakthivel Dean Academic and Dr. KR. Senthilkumar, Librarian/NIET
The workshop comprised of three sessions namely – "New Trends in Managing Libraries", presented by Dr H K Kaul, Director-DELNET, followed by "Networking Libraries through DELNET" by Dr Sangeeta Kaul, Network Manager - DELNET & Omkar N Safapuri, Consultant - DELNET Coordination Unit, Bangalore, and "Consortium for E-journals and E-books". The post lunch-break sessions consisted of "DELPLU's: an Open Source Integrated Library Management System, by Dr Sangeeta Kaul, and a presentation on "NIET Library, Coimbatore" by Dr KR. Senthilkumar, Librarian, NIET. The sessions concluded with an open discussion and feedback from participants of member-institutions.
The workshop ended with the valedictory function which was presided over by Dr P. Maniiarasan, principal - NIET. The president and other dignitaries on the dais handed over the participation certificates.