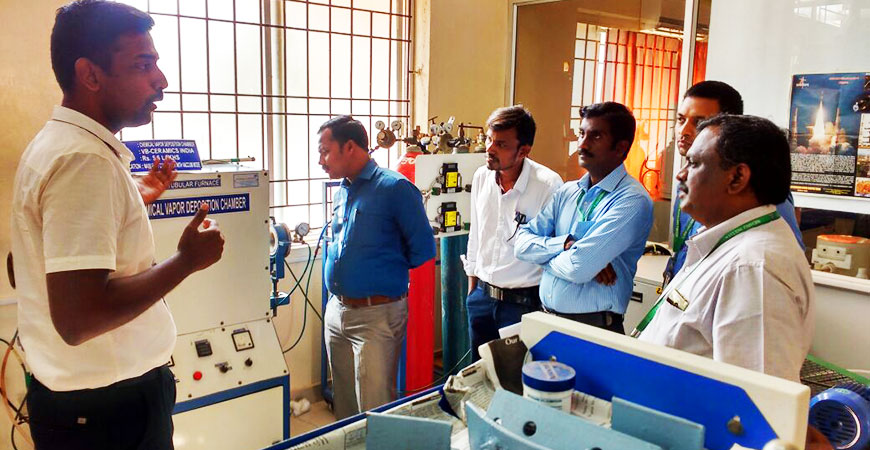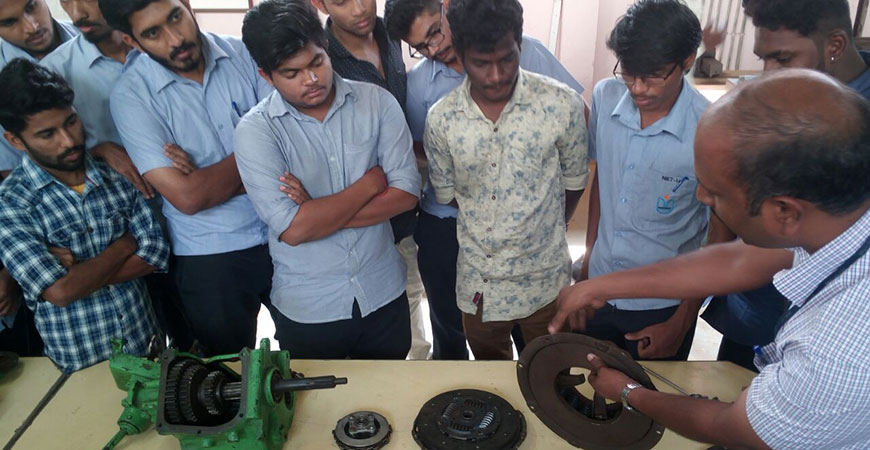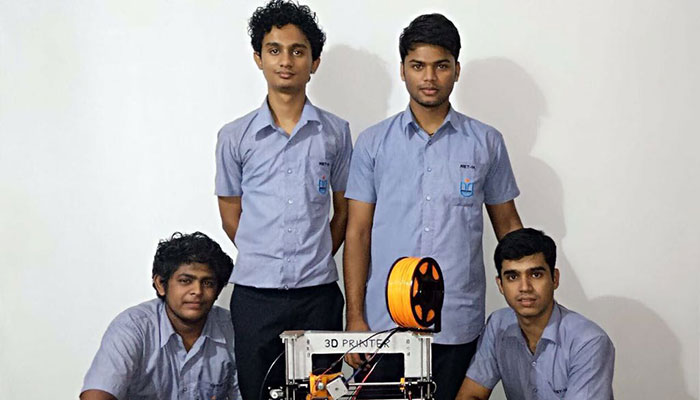 Department of Mechanical Engineering
The department of mechanical engineering was stablished in the year 2006. Now having two classes with first year intake 120 and lateral entry to second year24.The department is having three doctorates and nineteen M.E. with various branches from CAD, Production Engineering, Thermal Engineering, Engineering Design, Industrial Engineering and Energy Engineering. The department is having well equipped laboratories. SAE Collegiate Club is functioning with various on campus and off campus activities. As part of CSR, all the faculties of mechanical engineering are contributing to Assisi Snekalaya – A AIDS orphanage center every month with Rs.5000 worth of food materials.
Vision
To mould the Mechanical Engineering aspirants Into Employable Engineers and Successful Entrepreneurs.
Mission
To be centre of excellence in Mechanical Engineering in providing Quality Education.
To upgrade infrastructure and faculty competency for Continuous Development.
To inculcate a work culture that yields Socio-Economical Engineers and Intellectuals.
To instill leadership qualities to pursue Professional Career and Entrepreneurship.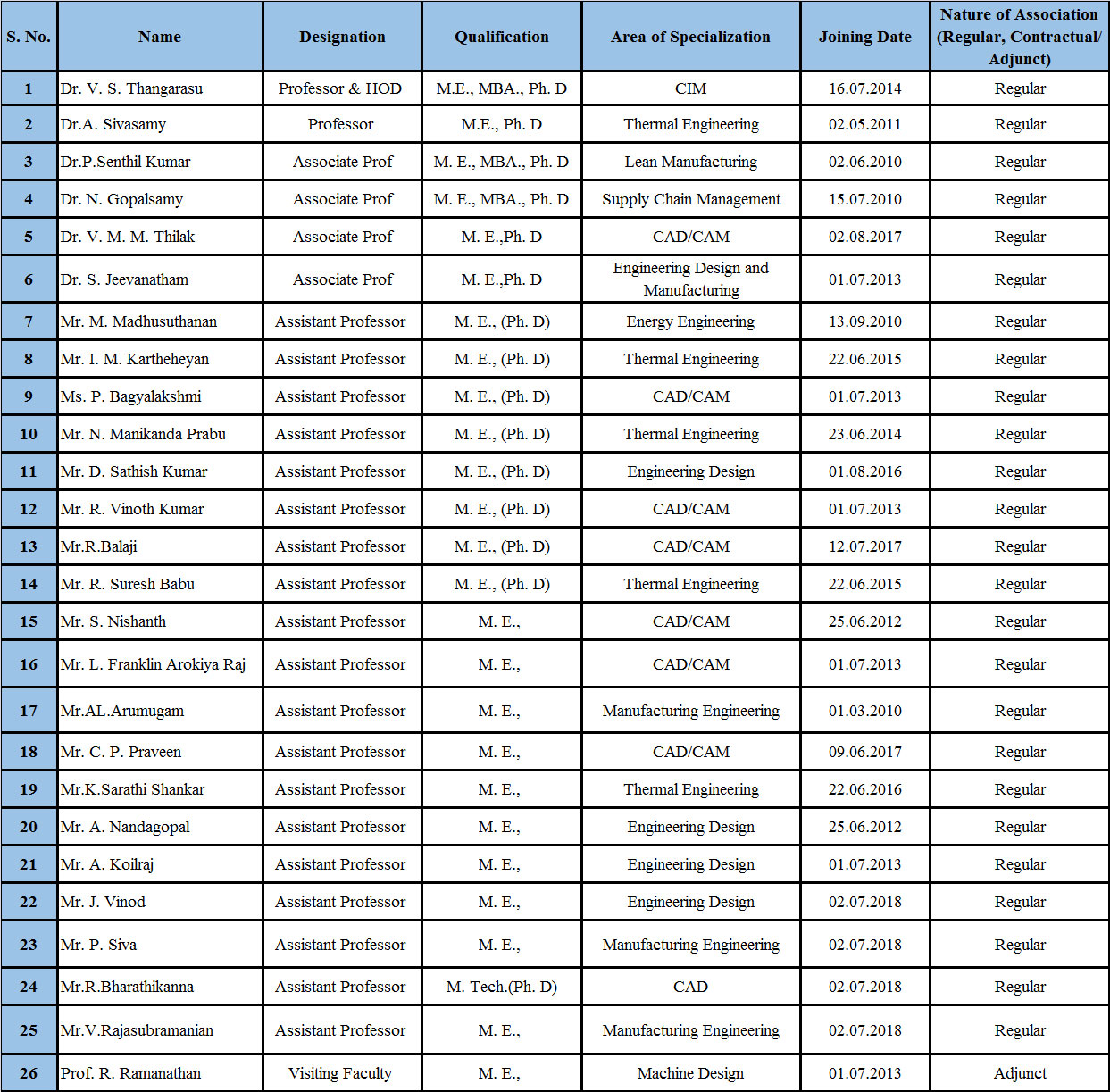 PROGRAMME EDUCATIONAL OBJECTIVES (PEOs)
PEO1: To excel in career applying knowledge in mathematics, science and engineering fundamentals essential to create, solve and analyze Mechanical Engineering related problems.
PEO2: To design, analyze and implement cost-effective solutions to engineering problems encountered in the field that are beneficial to the society.
PEO3: To establish careers in industry by exhibiting professionalism that meets the needs of national and multinational companies with adequate technical learning and communication skills.
PROGRAMME SPECIFIC OUTCOMES (PSOs)
PSO1: Identify, Formulate and Solve engineering problems in core streams of mechanical Engineering ie., design, thermal, manufacturing and industrial engineering
PSO2: Apply modern tools to interpret data, design and develop solutions to complex Mechanical Engineering issues employing ethical principles and professional engineering practice.
PSO3: Function as an Engineering solution provider, entrepreneur with abilities to manage, innovate, communicate, train and get trained to lead teams for continuous development of the society.
LABORATORY DETAILS
Engineering Practices Lab
Manufacturing Technology I Lab
Manufacturing Technology II Lab
Strength of materials laboratory
Thermal Engineering Laboratory I&II
Fluid mechanics and machinery laboratory
Dynamics laboratory
Metrology and Measurements laboratory
CAD/CAM Laboratory
Simulation and Analysis Laboratory
MOU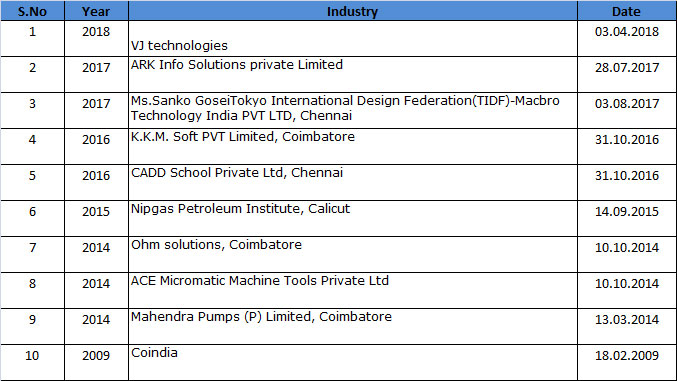 Academic Year 2017 - 2018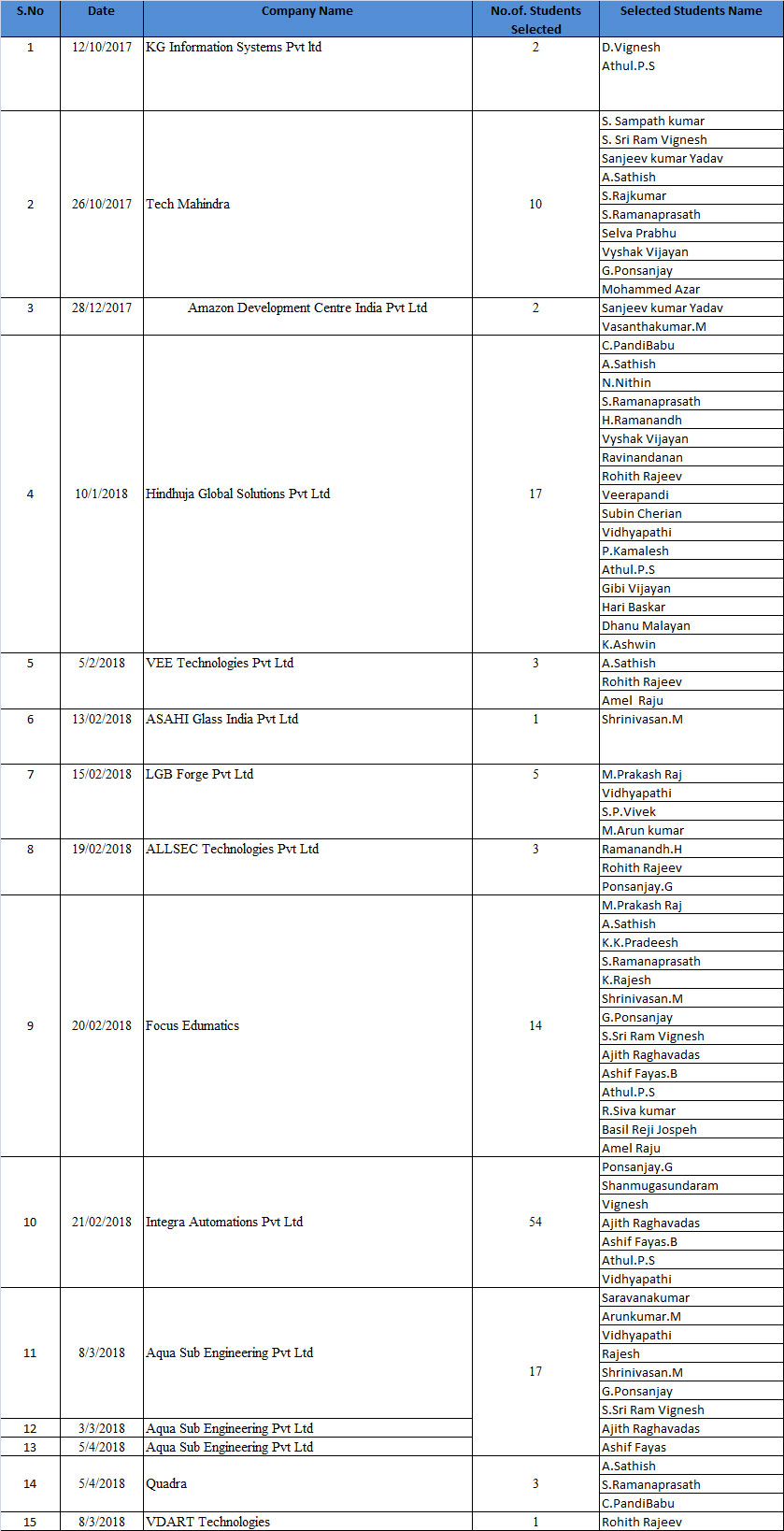 Academic Year 2016 – 2017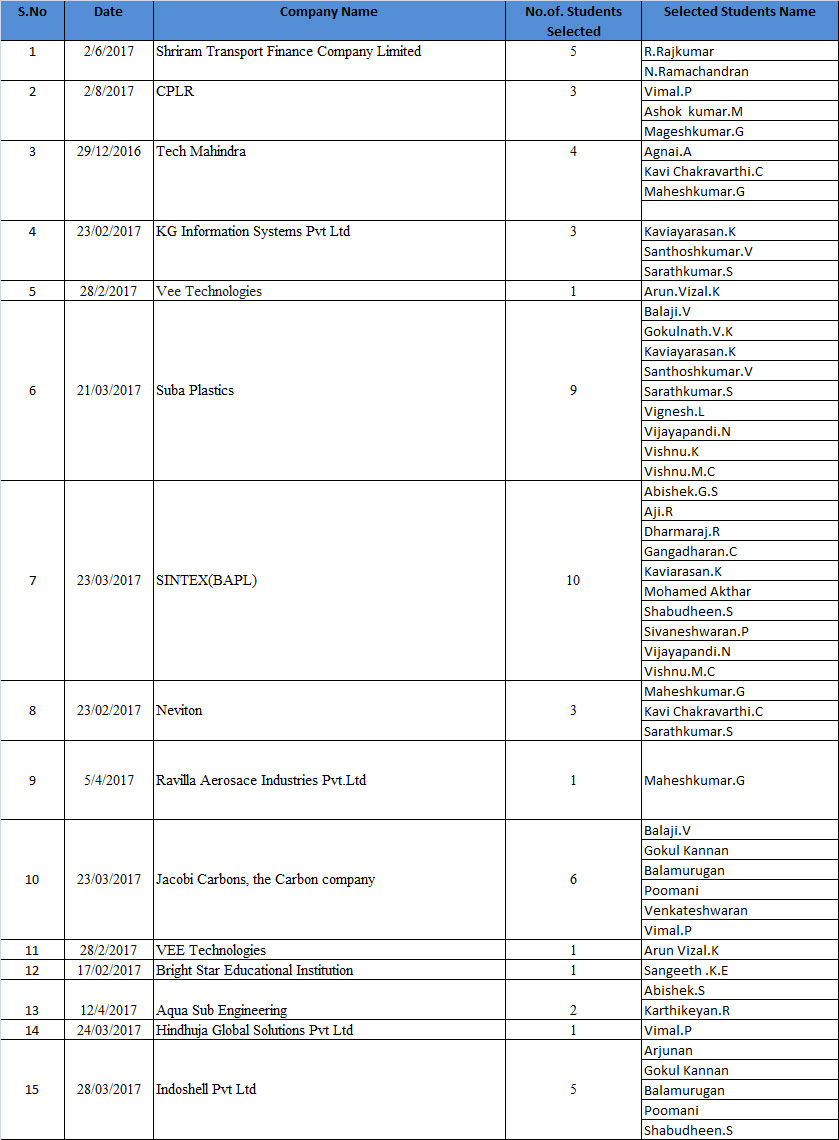 Academic Year 2015 – 2016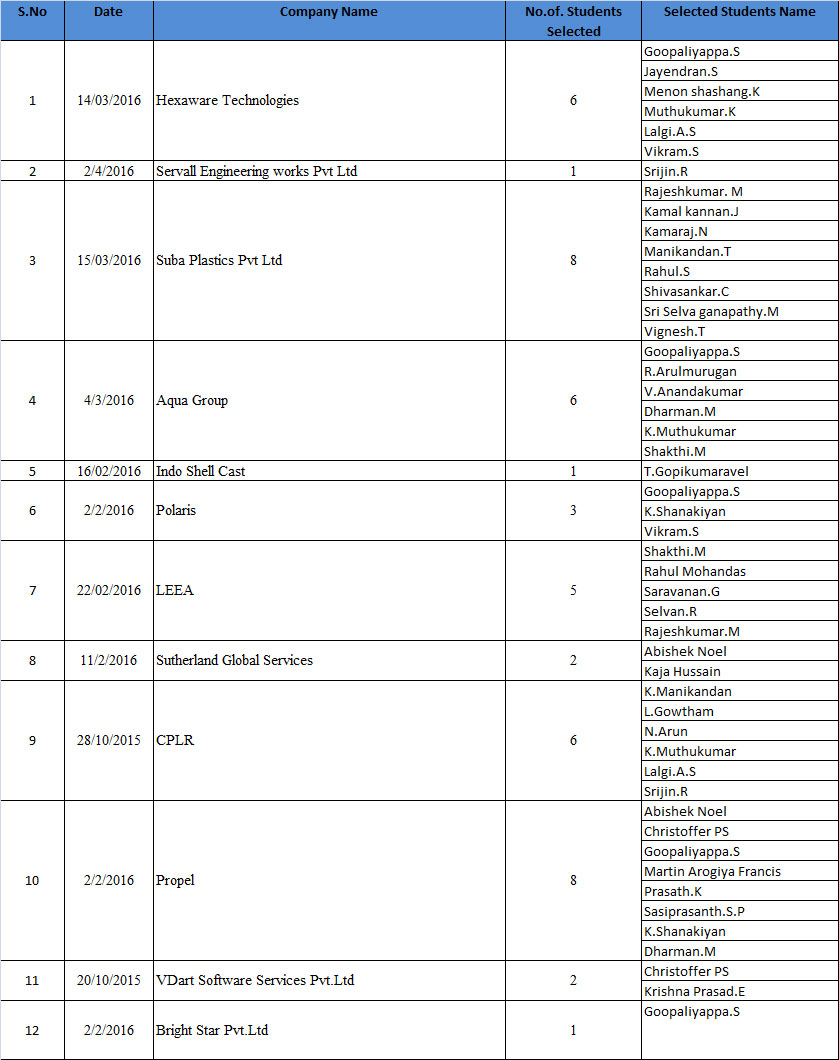 Teaching Learning Practices

Industrial Visits

In-plant Training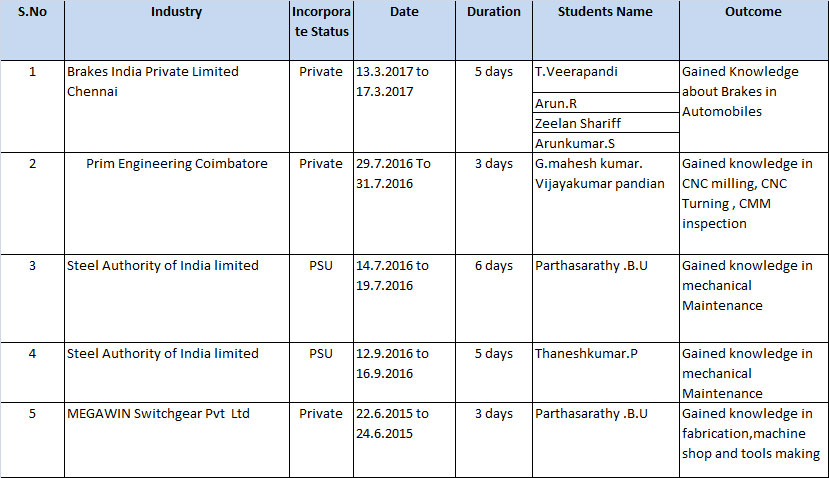 Industrial Projects