MASTER OF BUSINESS ADMINISTRATION (MBA)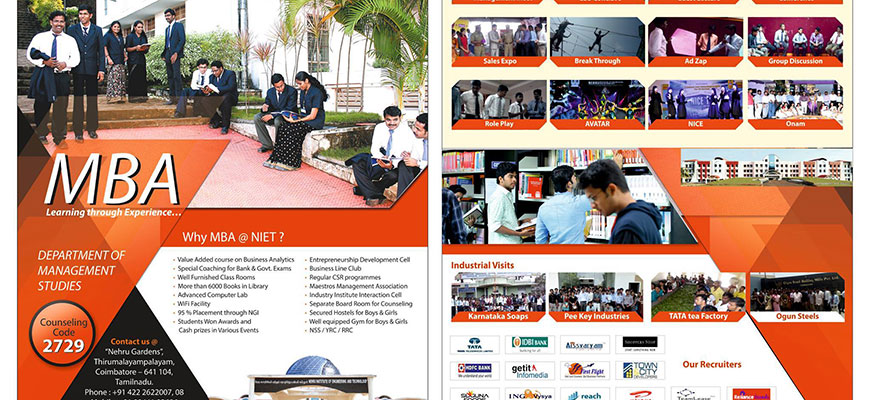 Department of Master of Business Administration
The Department of Management Studies was established in the year 2007 with the intake of 60 students. The department is permanently affiliated with Anna University, Chennai in the academic year 2016 – 2017. The department offers two years full time MBA programme with a commitment to provide career orientated superior quality of education. The department offers dual specialization. The students can elect any two specializations from Marketing, Finance, Human Resource, Systems, Operations, Shipping and Logistics. The department has excellent link with industry and engaged continuously interacting with them. The curriculum is being imported by the mentors who are drawn from both the industry and the academic institutions of repute for the well being of the student community. The students who had walked out form this institution were well placed in versatile corporate sectors. The endeavors are continuous. The future budding managers are blended with academic and experiential learning through outbound training practices. Periodical Guest lectures, Workshops and Conferences add values to the department. The department has produced nearly 400 MBA graduates from the year 2007.
Vision
To mould true leaders through creative management techniques by enhancing student skills and adaptability to match with corporate culture and inculcating ethical values.
Mission
To provide practical training, improve analytical power, reasoning abilities and technical dexterity.
To facilitate students to understand their responsibility for the development of the society with the individual improvement.
To increase employability of the students by variety of skill excellence techniques.
To adopt the industrial culture in campus by involving corporate delegates interaction most frequently.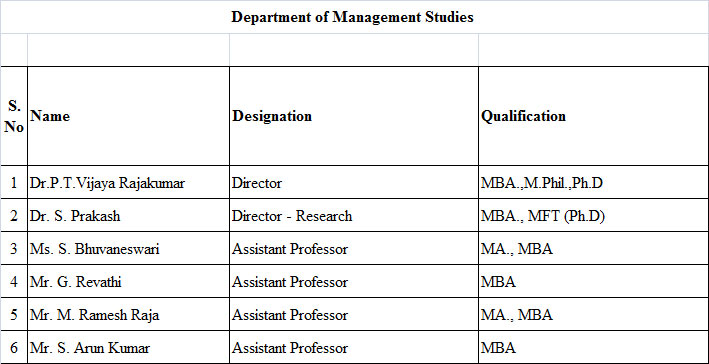 PROGRAMME EDUCATIONAL OBJECTIVES (PEOs)
PEO 1: To possess professional and communication skills with ethical attitude to function as members of multi-disciplinary teams in industries and to assume leadership role in addressing the managerial issues.
PEO2: To design, analyze and produce cutting edge engineering solutions by employing modern techniques and adhering to moral values for sustainable development.
PEO 2: To access, analyze and plan, so as to apply acquired knowledge in basic, managerial sciences and mathematics in solving managerial problems with economic, environmental and social contexts to acquire professional expertise in industry and research.
PEO 3: To acquire necessary domain knowledge to pursue successful career in management, capability to set up their own enterprise and involve in research and development in order to fulfill the needs of the society.