ELECTRICAL AND ELECTRONICS ENGINEERING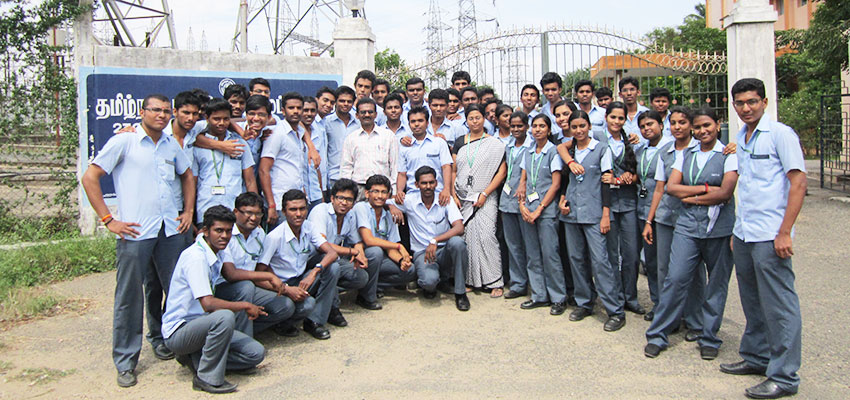 Department of Electrical and Electronics Engineering
The Department of Electrical and Electronics Engineering was established in the NIET Campus during the academic year 2008. This department adopts quality procedures and standards to improve the overall quality of the education process. The department offers an undergraduate program in Electrical and Electronics Engineering, Post graduate Program in Embedded system Technologies. The department has highly qualified, dedicated and efficient teaching staff and committed administrative staff in all disciplines. Laboratories such as Electronic system design Lab, power Electronics Lab, Power system simulation Lab, Control system Lab, Electrical Machines Lab, Control and Instrumentation Lab are well equipped and designed in such a way so as to provide an industrial environment to the students. The Department has organized many workshops, seminars, guest lectures, symposiums and industrial visits.
Vision
To become a preferred destination for quality education in the domain of Electrical and Electronics Engineering, generating world class professionals embedded with ethical and human values, through outcome based education and core research to face the challenges in industry encountered with routine and real-life problems.
Mission
To build a strong centre of learning and research in Electrical and Electronics Engineering To mould the youth to combat challenges and propagate prosperity through technology and value based education.
To impart high quality education using innovative methods of teaching-learning process.
To encourage entrepreneurship in the area of energy engineering by providing proper guidance.
To create globally recognized professionals in the field of Electrical and Electronics Engineering.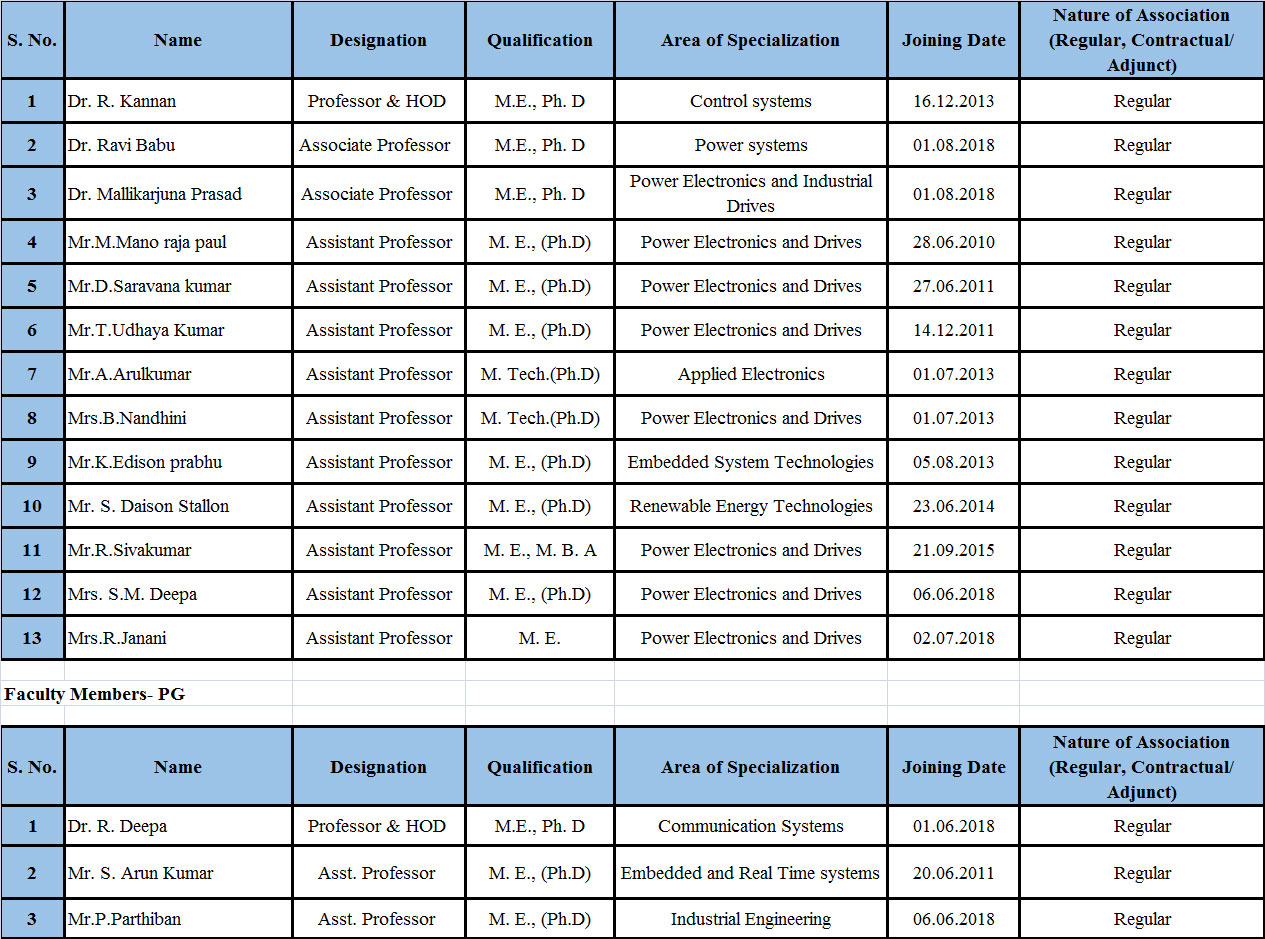 PROGRAMME EDUCATIONAL OBJECTIVES (PEOs)
To perform well in a professional career with the usage of various soft computing tools which would enable them to apply effectively the basic theoretical knowledge acquired in mathematics, science and engineering to design and develop the various engineering problems related to the field of electrical and electronics engineering.
PEO2: To design and analyze an engineering product, practicing codes of professional ethics and to create awareness regarding moral responsibilities in dealing with environmental and social issues.
To converse fluently and precisely in a language well understood by others to convey their ideas and views regarding various issues that arise during their career as professionals and make them realize the importance and benefits of team work.
PROGRAMME SPECIFIC OUTCOMES (PSOs)
PSO1: To apply the knowledge of mathematics, science, general engineering concepts and electrical engineering principles to formulate and analyze complex engineering problems and design electrical and electronics systems and devices for specific requirements considering electrical safety, social and environmental aspects.
PSO2: To apply appropriate technology and modern software tools using research-based knowledge to design and develop projects, translate data and provide valid results.
PSO3: To apply reasoning, responsibilities and ethical principles relevant to professional engineering practice and understand the impact of engineering solutions for continuous development.
PSO4: To work effectively as an individual or in a team to manage projects with good oral communication and report writing skills to make impressive presentation on complex engineering activities and adapt to emerging trends through life-long learning.
LABORATORY DETAILS
Electric Circuits Lab
Control and Instrumentation Lab
Power Electronics Lab
Electrical Machines Lab
Renewable Energy Park
MOU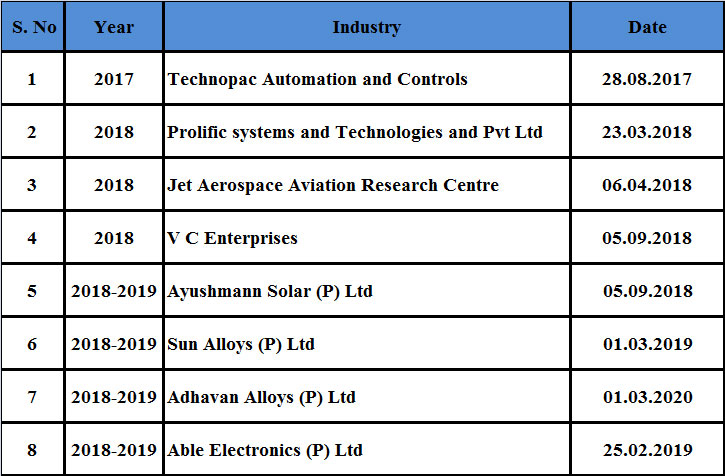 Academic Year 2017 - 2018

Academic Year 2016 – 2017

Industrial Visits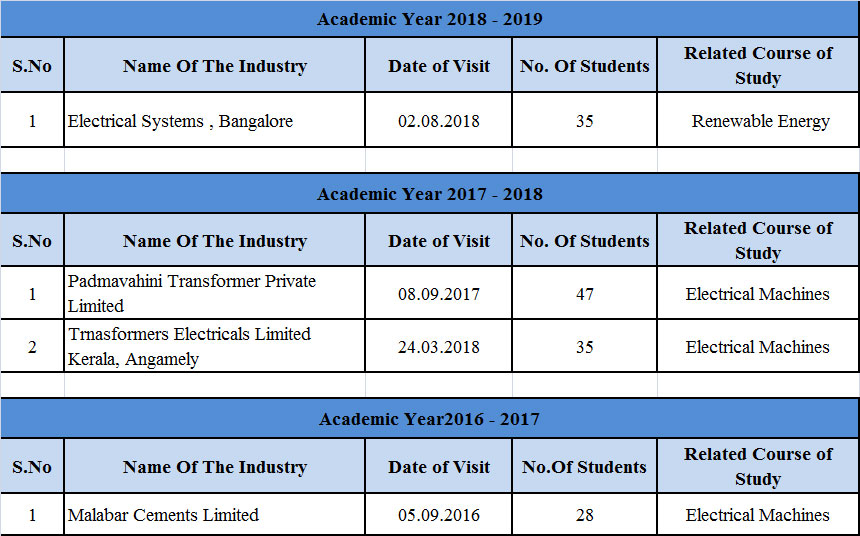 In-plant Training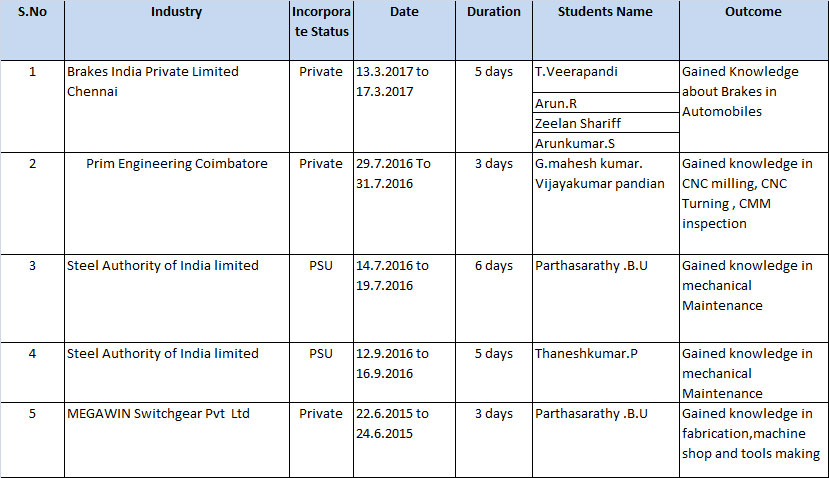 Industrial Projects